About All Pets Animal Hospital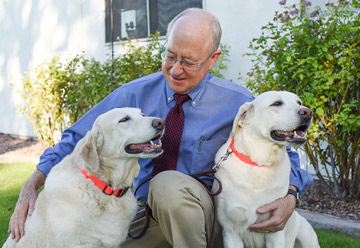 About Us
Selecting a veterinarian is one of the most important decisions that you make as a pet owner. When you choose All Pets Animal Hospital in Peoria to be your pet care partner, you can be assured your pet is receiving veterinary care based on the most advanced medical protocols from a welcoming, experienced and dedicated team.
We proudly serve dogs, cats and exotic pets in Peoria, Arizona, and the greater Phoenix area. Your pet is the top priority at All Pets Animal Hospital—always.
The History of All Pets Animal Hospital
All Pets Animal Hospital was founded by Dr. Ray Marsh in 1997. After practicing general veterinary medicine for several years, Dr. Marsh and his wife opened All Pets Animal Hospital with the goal of bringing personalized veterinary care to Peoria pets. As a private, independently-owned practice, All Pets Animal Hospital offers a full-service experience for pets and their owners.
In 2015, All Pets Animal Hospital expanded when we added Dr. Ray Marsh's daughter, Dr. Elizabeth Marsh, to the veterinary staff. A true family practice, the veterinarians and staff at the hospital treat each pet as if it were their own.
When designing the hospital, Dr. Ray Marsh and his staff focused on providing the best experience for pets and their owners. The free-standing building is surrounded by plenty of lush grass and trees, and there's always plenty of parking. Going to the veterinarian can be stressful for pets, but at All Pets Animal Hospital, you can expect an easy and comfortable visit.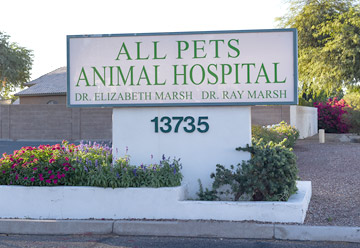 Pet Wellness Exams in Peoria
The centerpiece of your pet's healthcare plan is regular wellness care that includes annual "nose-to-tail" examinations, dental examinations and cleanings, customized vaccinations and parasite prevention. Identifying issues before they become serious is both the key to long-term health and to keeping the lifetime cost of caring for your pet as low as possible.
Your Pet Care Partner
At All Pets Animal Hospital we place a special emphasis on open communication with pet owners. When you bring your pet in to see us, we want you to feel confident your pet is receiving the best care possible. Ask us anything you want to know. The veterinarians and staff at All Pets Animal Hospital know that great veterinary care begins with taking the time to get to know your pet, talking with you and giving you the information needed to make the best decisions for your dog or cat.
Call Us Today for All Your Pet Care Needs
Please take some time to read about the services we provide and about why you should trust us with your pet's health, now and for years to come. If you have any questions or would like to schedule an appointment, call (623) 334–3030.